Thursday, July 26
12:30pm – 1:30pm
Club One Fitness | 210 Country Day Rd, Chester, MD 21619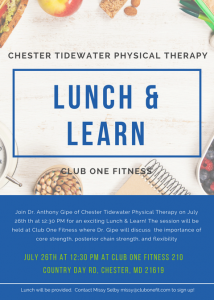 Join us for a Lunch & Learn! Dr. Anthony Gipe of Chester Tidewater Physical Therapy will be presenting at Club One Fitness on July 26th at 12:30 PM for an exciting Lunch & Learn!
Dr. Gipe will be discussing the importance of core strength, posterior chain strength, and flexibility.
A healthy lunch will be be provided by Tidewater Physical Therapy and catered by Panera Bread. This Lunch & Learn is free to Club One Fitness Members. Please sign-up at least two days prior to the event by contacting Missy Selby missy@clubonefit.com or Kayleigh Spencer kspencer@tidewaterpt.com.
July 26, 2018 | 12:30pm – 1:30pm | Club One Fitness | 210 Country Day Road, Chester, MD 21619
More About Dr. Gipe:
Anthony Gipe, DPT
Anthony Gipe is the clinical director and senior physical therapist of our Chester, MD location. He joined Tidewater Physical Therapy in 2017. Anthony received his Bachelor of Science in Kinesiology from the University of Maryland College Park in 2013. Immediately after receiving his undergraduate degree, he was accepted into the Physical Therapy Doctorial program at the University of Maryland Eastern Shore. He received his Doctorate of Physical Therapy (DPT) in September 2016. Anthony specializes in sports and orthopedic therapy, spinal cord injury and multi-trauma therapies, pelvic and sacroiliac dysfunction, therapeutic interventions, and lower extremity dysfunction. Personally, Anthony enjoys being physically active by playing sports in his free time.