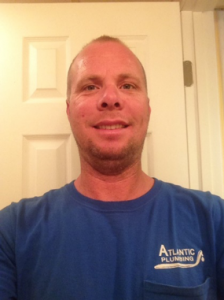 In February 2016, Robert Boone of Bishopville, MD fell at home, causing his ankle to break. As a Plumber by trade, Robert's primary responsibilities consisted of fixing commercial and private plumbing by installing and repairing water supply lines, waste disposal systems, and other appliances and fixtures. These physically demanding tasks often involved crawling into small spaces and lifting heavy objects. With a broken ankle, his job was impossible.
After staying off it his ankle for a few weeks Robert's Doctor told him that it was time to start physical therapy. Robert could not walk without crunches and needed physical therapy to rebuild the strength and flexibility in his ankle. Being a close resident, Robert sought out Tidewater Physical Therapy of Ocean Pines. Starting that mid-March, Robert became a patient of William (Billy) Hamilton, DPT, CHT.
At first, Billy and the Ocean Pines team worked with Robert on a lot of exercises that involved stretching, as he still could not walk on his ankle at this point. As he gained strength, he started to bear weight with the help of one crutch. Once he could semi weight-bear, his exercises became more challenging to encourage additional flexibility and strength. A month later, after reaching his goal, Robert was discharged from Tidewater Physical Therapy while still working with home-based exercises.
Throughout the entire process, Robert slowly transitioned back to work as he grew stronger with the help of Tidewater's physical therapy experts.
In looking back at his time at Tidewater Physical Therapy, Robert was extremely grateful for the help he received. He stated that everyone at the Ocean Pines clinic was "very friendly and very helpful."
At Tidewater, we often treat patients who work in careers that are physically demanding. Whether these patients have been injured on or off the job, it is vital that these patients are able to return to work as soon as possible. It is our responsibility as physical therapy experts to help them reach this goal.